Haloquin's Playground
Welcome to my playground...
I set this site up about 3 years ago to be somewhere to put my philosophical musings... these musings happened, but, strangely, never arrived here. Eventually I forgot all about my playground and the dustballs began to roll as I spent more time in my studio.
Today I stumbled across my playground again and decided it could do with a new lick of paint, and that this would be the perfect place to use as the hub for all my many and varied projects.
From here, then, you can reach my art, my crafty studio and my stories. And perhaps my musings will eventually find their way here too.

Arts, Crafts and Magical musings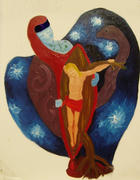 I Shall Put Important Bits Here...
I have many loves, philosophy, art, magic, dancing, crafts... and somehow these are all complementary leaving only one problem: time. Making time for everything I love, to do all these things well, is a challenge. Because of this I'd rather do what I'm passionate about than write about it online, but I do like to share, so sporadically you'll find musings, pictures, stories or snippets in my many online spaces, collected for the first time here.
Enjoy!